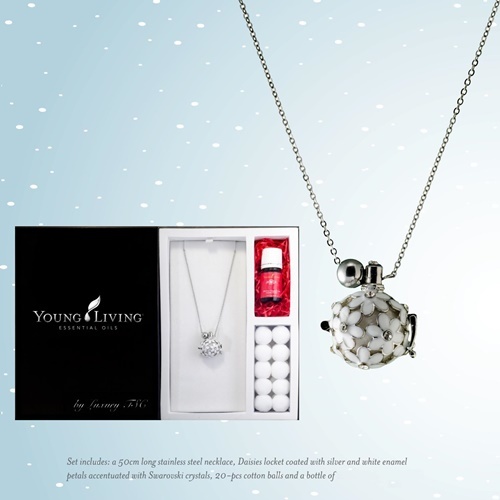 Precious Daisies Diffuser Necklace c/w Joy 5ml
Diffuser necklace is a must-have accessory! Discretely enjoy the benefits of essential oil on-the-go, either for a quick sniff to uplift your mode of wear it like a perfume! This diffuser necklace set features a lovely white daisies design locket with Swarovski crystal, exclusively available for Young Living's members. Stunning and fashionable, this is perfect to complement your daily outfit or for special occasions.
Set include: a 50cm long stainless steel necklace, Daisies locket coated with silver and white enamel petals accentuated with Swarovski crystals, 20-pcs cotton balls and a bottle of Joy (5ml).
How to Use: Drop 3-4 drops of your favourite essential oils on the cotton ball. Put the cotton ball into the locket and enjoy your favourite scent on-the-go!