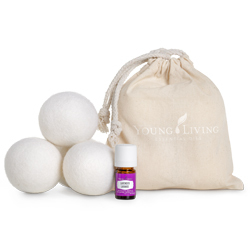 Young Living Dryer Wool Balls - 4pk.
Notice Young Living hand made, unbleached New Zealand 100% wool that is free of chemicals. When you use dryer sheets you and your family may be coating your clothes and skin with a thin film of artificial and toxic chemicals. Using this 4-pack of balls to your drying cycle instead will soften your family's laundry, reduce wrinkles, static, and drying time without adding toxicchemicals.
Here's how it works…Young Living Dryer Balls soak up 30% of their weight in water. As your laundry dries, the wool balls gently fluff, and evenly distribute humidity in the dryer to ensure less wrinkles. The balls also separate and pull apart wet clothes in the dyer, letting more hot air move in and around your laundry. This reduces drying time.
By bouncing amongst your clothes, reducing friction and absorbing the evaporated water out of the dryer more efficiently, your family's clothes will naturally be softer after using Young Living dryer balls, without the toxic chemicals and waste you get with dryer sheets.
Note: Essential Oil not included.